THE TOOLS WE USE
The creation of this page would be impossible without two major components: the photography equipment and the vehicle, and here we would like to discuss shortly these two aspects.
The Vehicle: Chevrolet Trooper
The most important element of the equation which contributed considerably to the successful creation of this page is without any doubt our Chevrolet Trooper, a truck from 1989 and which has on its back more than 14 trips around the globe or, to make it more visual, which reached already the moon and is on its way back (its speedometer shows 489.000 km.). It is a simple, but very solid and reliable truck which took us everywhere we needed to go, and sometimes to the places where we did not have to go as well...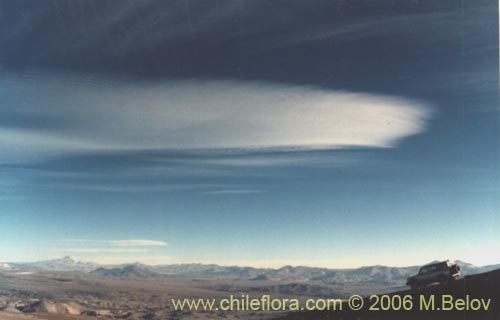 Off-roading in Chile is all about flying. Here I am well above the 5000 m mark.
It is big, high (important when collecting seeds from the rooftop), comfortable; the space behind is 2 m. long, so two persons sleep very comfortably; it has good loading capacity of 800 kg. The engine starts perfectly well at 5000 m. above sea level with -20º C and with no special adjustments. (When selecting a car, I was very adamant on buying a carburator model, nothing of the digital/fuel-injection gadgetry which is bound to fail in aggressive environments; I think only diesel engine might have been a better choice).
It swam in rivers, got stuck in swamps, marshes, crossed lava fields and boulders of up to half a meter, it followed the mountain horse trails, the sandy and dusty plains of Altiplano, and is still going…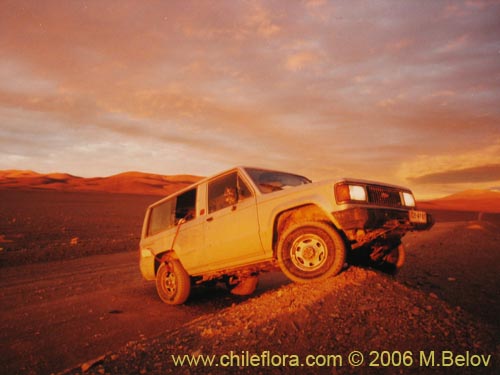 Filling-up. The inclination is not for photo posing: it helps the flow of gasoline from the improvised 60-liter tank inside.
The most important thing is that the truck is very solidly built below: it has 2 mm. steel protection for gearbox, engine, gasoline tank, very unlike the slender looking Toyota Hilux which have an exposed gearbox and spare wheel below which are bound to get caught on big boulders.
We have climbed slopes of up to 40º (that is almost 100%!!!) and very few conventional jeeps can surpass the physical resistance of the Trooper and which would offer the same interior space: only the Ford Bronco and the Toyotas from 70' may come to mind as worthy competitors for Trooper; obviously a military version of Hummer or a Unimog would gain upper hand easily, but that was out of the budget (and the latter has a tendency to roll over). Today there are many so-called jeeps on the market, like the X-Trail from Nissan, which are mere play toys. What does it matter what electronics and power you might have under the bonnet, if this X-Trail will loose its silencer on the first steep climb/boulder pass (the routing of the silencer of X-Trail is a tremendous design blunder, made by engineers who obviously do not have the slightest idea what a jeep is all about)… Trooper has a nicely protected silencer; we had just to cut a little the final section of pipe at an angle so that it would not touch the ground when crossing sharp V-formed ravines... Like the one here...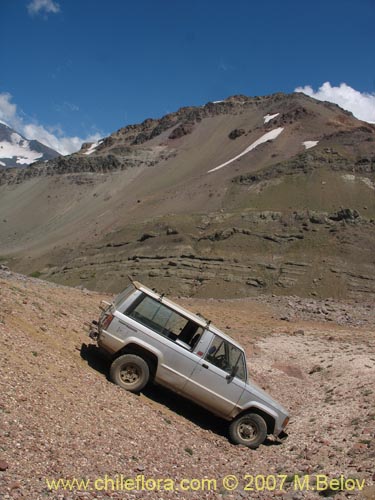 If you know how to relax and disconnect your mind, these slopes can be real fun! But not for the faint-hearted...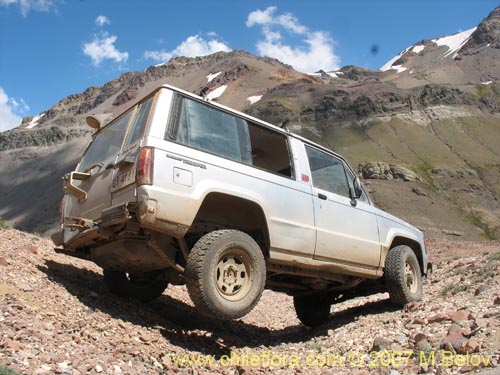 Watch out for the tail-pipe! Another 50 cm and it will scrape the slope. Also take note that all the lateral protectors on the rear and front bumpers are missing... they were really a nuisance burrowing into the slope on each crossing! And no lateral step-guards - the bump below the door says it all: every inch of clearance is too valuable to be spent on useless showy gadgets.
Altitude 2700 m, 40º descent, forget about the brake pedal. The barren slopes behind are the habitat for about 50 high-altitude species, including such beauties as Loasa laterita, Gaultheria caespitosa, Nastanthus spathulatus, Valerianas, Astragaluses, Barneoudia, Oreopolis, Calceolarias...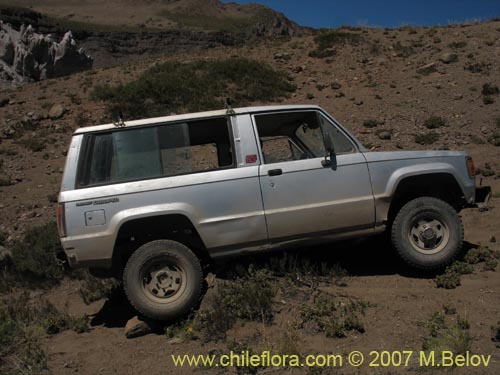 Rookie's error: stranded on a rock on a slope with two wheel in the air - banking 25º, pitch 20º, butterflies in the stomach, and an eerie sensation of closeness to God and roll-over. Trust in God, but never drive backwards without checking first where you are going! Some 45' later, a lot of digging, and improvised masonry the imminent religious feelings subsided somewhat... I never rolled over yet, but several times was quite close to it.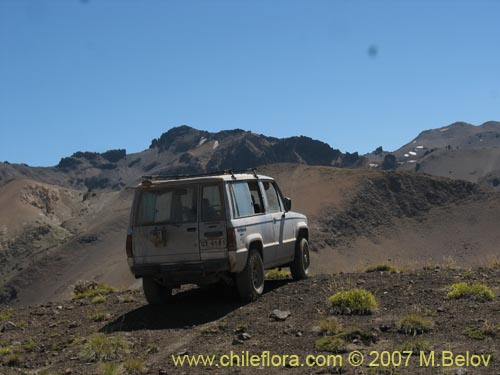 Top of the slope... Even I can not drive any higher from here... Acaena caespitosa, acaena splendens, Chaetanthera villosa, three species of Nassauvias watch the breath-taking scenery every day from the top of this mountain at 2600 m.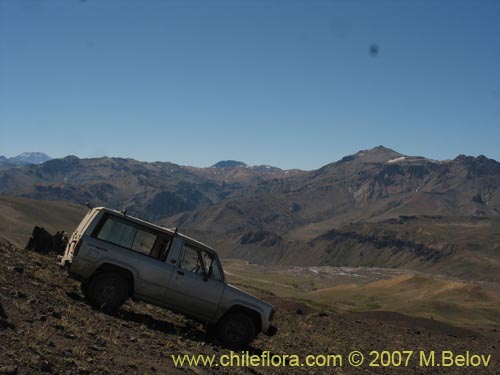 To collect the seeds, we (=I) really love to do all these stunts. Descent from happy hunting for Viola cotyledon seeds.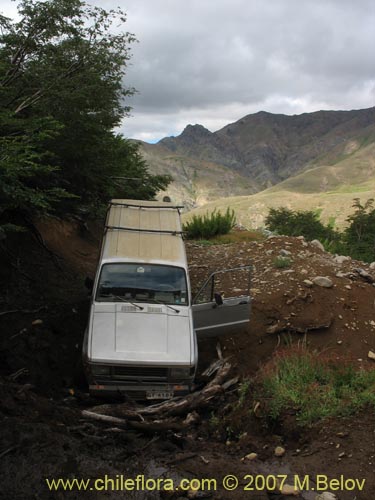 For those who wonder: I did not make across that ravine, and without a winch I had to dig and lift inch by inch the car backwards... In addition, the clutch cylinder broke down, so I lost the clutch. It took me over 7 hours what I thought would take me like 20 minutes... And then I had to drive about 400 km. to a repair shop without a clutch! That happened in Antuco, a place famous for 40+ dead soldiers in 2005' autumn who froze to death. Its ill-fame haunts these wonderful landscapes even today and played a game with me as well.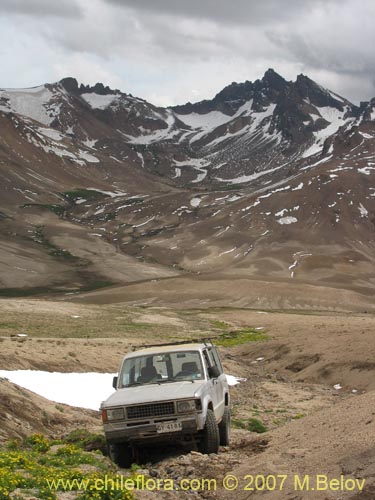 Another place, another 2800 m. And a complete unknown world of high altitude vegetation - Loasa nana, Calandrinia affinis, Oxalys adenophila, Adesmias, Violas, Nassauvias...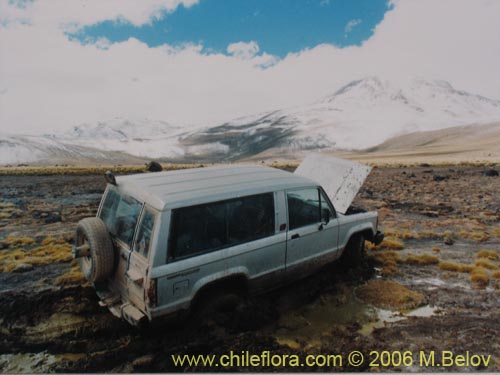 Bogged down at 4300 m. with no help or rocks to winch out in sight. Based on the principle: Will get stuck where others will not make it. Here you understand that the spade is the jeeper's best friend...
I never was stranded, but many times had to make make-shift repairs, and that is where the simplicity of Trooper pays off. Its four-cylinder carburator engine is as simple as it can get. And since no electronics are in it, you do not have to worry about the water accidents, like getting into a hole in the river-bed (provided you are fast enough to cut the engine... By the way, the best way to cross (murky) rivers is backwards (this is against the commonly taught technique of advancing slowly and creating a front wave); if you fall into a hole, your engine is going to be spared. Besides, you can winch yourself out much easier. That trick saved my engine more than once!)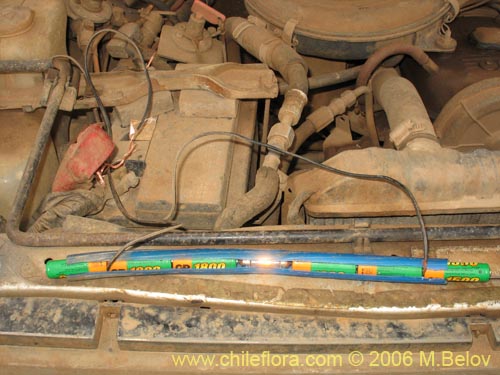 Battery charger for the digital camera, McGyver style: this high-tech piece of equipment worked perfectly for nine days during an expedition to the north when standard charger failed. The hose for gasoline serves as accu holder, the two outside batteries function as cable clamps, and the small light bulb limits the charging current to a reasonable level).
The Camera: Canon A610
Almost all of the photos on this page were taken with a simple digital camera Canon A610. There is a large and long discussion out there whether the digital cameras are better or worse than the conventional film cameras, and we have a very clear position on that matter: yes, the digital cameras are inferior, but too comfortable and cheap not to use them.
I have traditional manual film cameras FM-2 and FA from Nikon and a corresponding set of lenses, which, and there is not the slightest doubt about it, can produce results much better than the digital camera we used for making this page. The digital cameras in general and Canon A610 in particular have an inferior optical resolution (sometimes one gets confused by the publicity and takes the pixel number as a measure of resolution: I was never able to take pictures sharper than 2 pixels for a line or point. This means that a 5 megapixel cameras taken photos with a resolution of 0.5 – 1.2 Megapixels (divide 5 Megapixels by 2 horizontal and by 2 vertical = 1.25). Now there are camera models which go as high as 10 Megapixels (Canon A620, A630, A640), but which have the same optical system; that means that they will produce images with the same real resolution of no more than 1.5 Megapixels.
In addition, the simple lens of the digital cameras has a very strong chromatic aberration, which means that when you have two different colors close to each other and at the same distance from the camera, they blend and the camera can focus well on only one of them, leaving the other blurry. This is especially notable with red color (and many flowers are red, as you might know).
The barrel distortion, especially in macro close-ups is terrible: a straight line has an appearance of an arc with a 20 curvature.
When there is a strong contrast in the picture, the whites penetrate the dark areas for up to 15-20 pixels, leaving everything with a horrible aura. And the whites become often violets… nothing of this kind is happening with the traditional cameras.
The dust is another grave problem with the digital cameras in general and with Canon A6xx line in particular. Due to the small size of the lenses the sand grains have a much stronger impact on the image quality than is the case with 35 mm cameras. The zoom does not have any protection against dust which is free to penetrate the zoom lens and which settles on the internal lens elements and even CCD sensor (once I had a grain of sand settling on the CCD, I had to bang the camera until I was able to dislodge the grain; I believe that the camera was quite close to the breaking point, though). In fact, one or two trips are enough to make the camera almost useless, and it will need a cleaning which costs about 50 USD. Unfortunately, the manual never says that the camera is "for interior use only."
Despite all this, the Canon line A6xx seems to be the best for digital photography of the plants. It is relatively cheap, has good lens quality for pocket-sized digital cameras, has all the functionalities of a manual camera, like the manual focusing mode (you may not believe it, but I am using this option very frequently when taking macro-mode pictures), exposure compensation, ASA selection, flash strength selection, Spot measurement, 2 second timer (very important for taking photos in low light because it eliminates the jerking when firing the camera – with some practice you can obtain razor-sharp photos at 1/20" for wide-angle setting, and, if you can find something to lean the camera against, you will be able to go down to 1/4"). Also very important, it uses standard batteries, which can be charged with standard or improvised chargers.
Finally, and this is extremely important, it has an excellent macro mode which goes all the way down to 1 cm. This allows to obtain a macro resolution of up to 15-20 microns, i.e. the camera works as a magnifying glass of about 8 x – 12 x. And finally, our particular camera managed to survive 20,000 photos during one year in a very aggressive environment. For this reason I am sure that our choice of the digital format in general and of Canon A 610 in particular was the right one: the future is digital and the moment when digital cameras will reach the quality of the 35-mm film in terms of resolution and depth of color is not that far away. Meanwhile, we will have to accept the quality limitations of the digital cameras and put more weight to the cost/utility factor.