Conguilillo National Park
There are several rather interesting routes possible in the Conguilillo area, with the main attraction being the Araucaria tree stands. For a quick visit one can try the direct approach from Temuco to Llaima Volcano(through Vilcún and Cherquenco) - it is quick, has good roads and if you have time constraints you can be done in half a day and get a good impression of the plants there. The other route, which can be done either from Melipeuco or Curacautin is considerably longer, with very bad, rocky roads, and would take at least one day; scenically it is much better and impressive, but the plant life is less varied there.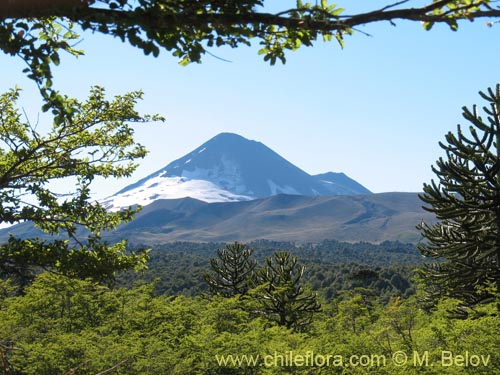 Llaima volcano
Paraguas: Llaima Volcano as close as you can get to it by car
How to get there: From Temuco to Cherquenco there is a paved road, and from there you would continue straight on eastwards to the Conguilillo National Park. The approach up to Cherquenco is rather boring, but in spring (around November - December) you would see many beautiful red-flowered trees - Embothrium coccineum and also big yellow alstroemerias - the ever-present Liuto or Alstroemeria aurea. If lucky, you might get a glimpse of Tropaeolum speciosum, a nice, but quite rare red-flowered vine with dark blue seeds winding its way up on the roadside vegetation.
On the approach from Cherquenco to Llaima you would drive through the Nothofagus woods consisting of Nothofagus obliqua and Nothofagus dombeyi; In the undergrowth just on the sides of the road there are Alstroemeria aurea and Berberis darwinii. A little bit higher, after passing the ranger station and the entrance to the park you would get into the Nothofagus antarctica wood and on the sides of the road you also may easily see the shrubs of Maytenus magellanica.
Further up there is a cross road: the main road turns left and continues to a new skiing resort and further to Curacautín, a trip somewhat less interesting than if you continue straight ahead here.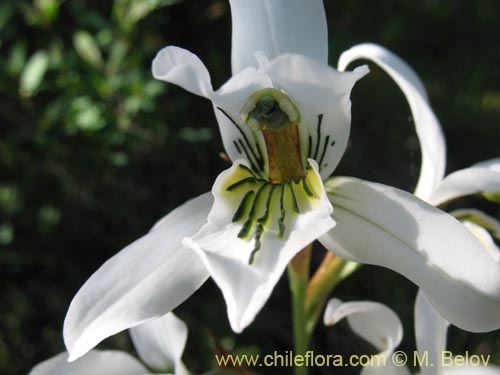 Chloraea longipetala is a beautiful orchid with large flowers
If you go left to Curacautin, the road will continue more or less flat for almost 10 km. before beginning its descent. On that stretch one can see Calceolaria valdiviana, Mutisia decurrens, Lathyrus species, Ribes magellanicum, Alstroemeria aurea. There are also two very rare species to be seen, an orchid with large white flowers, Chloraea longipetala, and even more difficult to find, the pink Rhodophiala moelleri, both within a few meters from the road.
If at the cross road you continue straight ahead, the road will climb steadily, and soon you will get to an abandoned skiing resort with old ski lifts, a couple of buildings and a military club house (off limits). Here at 1550 m. one has to leave the vehicle and continue climbing on foot.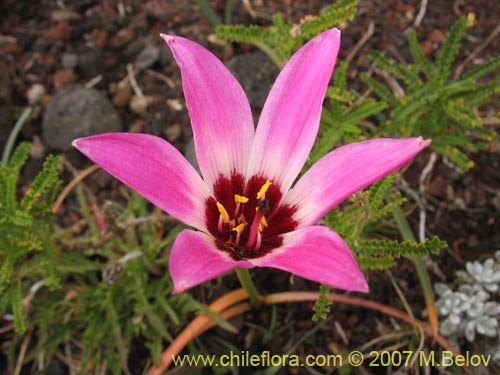 Rhodophiala andicola is one of the most beautiful Rhodophiala species of Chile
This area is at the timber line limit and boasts a great variety of shrub and small tree species: the main brunt of the forest consists of very dense and almost impenetrable Lenga stands, Nothofagus pumilio, and the dinosaur-like looking Araucarias. Inside the lenga wood only few species can survive the dark conditions, so it is not very worthwhile to venture inside, though in one area you can find dense groups of big orchids with yellow flowers, Gavilea lutea, a very nice sight in December. Bordering the wood are high-mountain variety of Notro, Embothrium coccineum fma. andina and Maytenus disticha (1600 m). In the clearings and on the slopes going up (1500 - 1700 m) you will also find Perezia recurvata, the pink Rhodophiala andicola which is present in huge numbers, the medicinal and highly valued Paramela (Adesmia emarginata), which the locals gather as a medicinal herb. Here another beautiful terrestrial orchid, Chloraea magellanica, is at home since this species prefers open spaces.
In the ravines and on more barren and rocky slopes two edible species dominate the landscape: Gaultheria pumila, Chaura blanca, with its sweet white fruits, the flavour of which reminds vanilla, and Empetrum rubrum, also called the Murtilla of Magallanes for the red color of its fruit. The latter has little connection to the true Murtilla (Ugni molinae), which grows at much lower altitudes and has dark-red fruits with a lot more flavor than the more watery and less tasty Empetrum rubrum. The fruits of these appear here around end of February through March and the flowers come some two-three months earlier.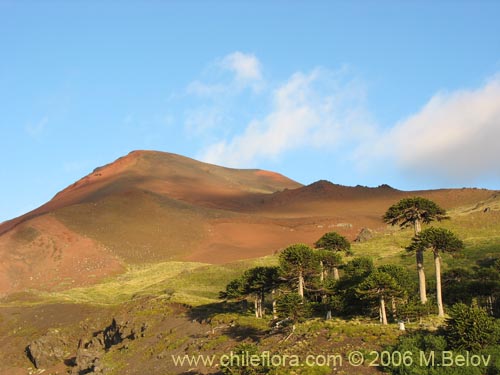 A smaller peak of 2000 m. dominates the view
Slightly higher up one can also find Euphrasias, Pozoa volcanica, Baccharis and some other minor species.. If you are in for climbing, you can climb the main mountain in front of the ski lifts, it is almost 2000 m high and you can be there in less than an hour. On the slopes facing east (some 200 - 300 meters from the summit), you will find very few species, but one of them may make the climb worthwhile: Chaetanthera villosa, a small endemic plant with huge (in relation to the plant size) yellow flowers and tomentose leaves (blooms in March). Apart from it, only two species of Nassauvias can be seen there, including the Nassauvia lagascae, a pigmy plant very common on high volcanic grounds in the area. And in any case, the views from the summit are stunning - you can see all the way to Temuco to the west and Llaima Volcano to North-east, provided that it is not covered by clouds (in early morning you have a better chance to have a clear view of its glacier).
Llaima volcano is not very high, only 3125 m., but its glaciers on steep slopes and often unpredictable weather make climbing it a tough choice.
Internal Conguilillo Route
Despite the fact that this route takes you to the heart of the Park and along very impressive scenery with barren fields of lava, it is not that worthwhile unless you are prepared to do some serious hiking (5 - 6 hours) to get into the higher mountains. Unlike the previous route, this one does not climb higher than 1150 m., so that you would have to trek on foot another 600 meters to see the High Andean species. From Melipeuco one drives east for a few kilometers and turns left at a marked cross-road just before a big bridge. If you do not take the first turn, and pass the bridge, there is another road going to the left which follows the same valley for about 10 km and then turns east and climbs to China Muerta, also a worthwhile trip.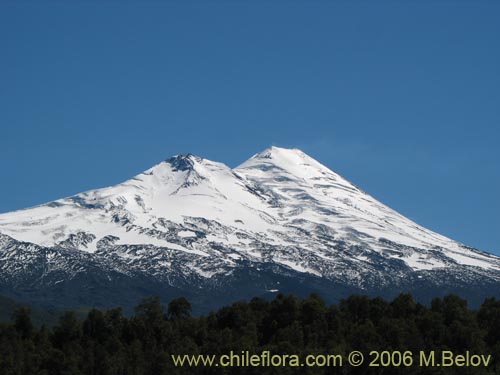 Llaima Volcano from the road to China Muerta National Reserve
If you follow the regular route to Conguilillo Park, do not pass the opportunity to see the rather varied species just at the beginning (2 - 6 km. from the cross road). This is a very heterogeneous area and many important species of the South can be seen here: Austrocedrus chilensis (Ciprés de la cordillera), Lomatia dentada (Piñol), Nothofagus dombeyi (Coigüe), Nothofagus obliqua (Roble), Prumnopitys andina (Lleuque), Dasyphyllum diacanthoides (Trevo), Sophora cassioides (Pelú), Fuchsia magellanica (Chilco)... One can make short side trips from the road to see a waterfall and the river (a few hundred meters from the road and half and hour, just at the entrance to the park - at the Ranger Station), but while scenically rewarding, no interesting species can be seen there.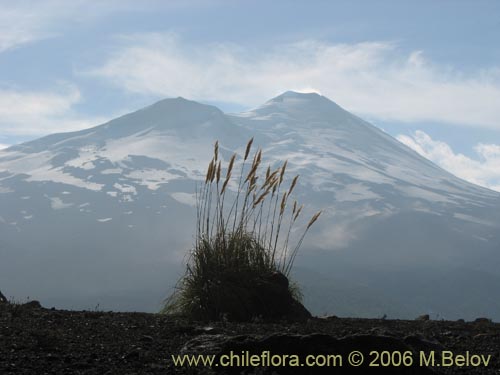 Cortaderia araucana – Fox's tail as it is called in Spanish against the backdrop of Llaima volcano.
Further up, the road continues to climb slowly on a lava field with very few species - the only prominent plant is Cortaderia araucana (Cola de zorro), one senecio and one baccharis species, and the Gaultheria pumila (Chaura). That is almost all that can be seen for the next 10 km. One can also check out the Lago Verde on the right, but it is also very poor in terms of plants.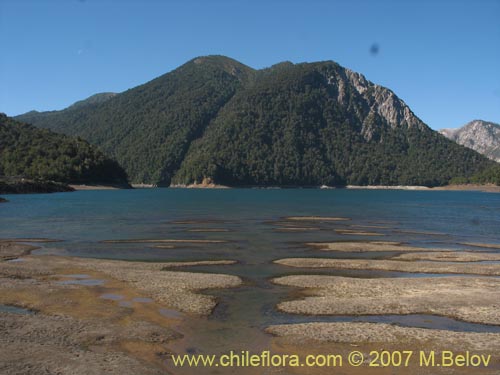 Lago Verde
Continue up the main road and soon you would enter the wood on the approach to the Conguilillo lake - the center of the park. Here the diversity increases again, and obviously, the centerpiece of attention would be the huge Araucaria trees. Some smaller species can also be found there, like Solanum valdiviense, Alstroemeria aurea, Perezia recurvata, Lathyrus magellanicus, Anemone multifida, Baccharis magellanica, Ribes magellanicum.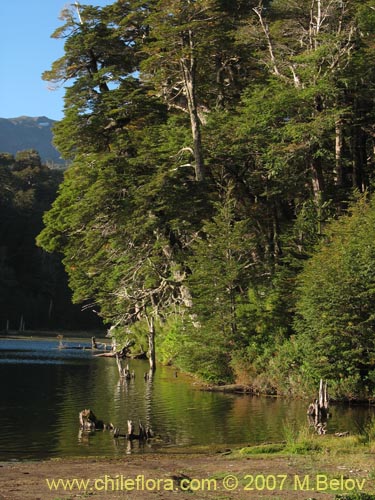 Conguilillo Lake
Partial List of Plants which can be seen there:
Embothrium coccineum fma. andina