介绍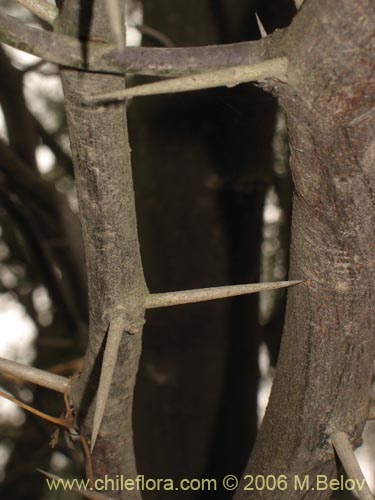 Prosopis chilensis的照片
地方:V Region, Cuesta La Dormida & La Campana, 智利
海拔:800-1200 米. 27日05月2006年
植物描写
植物形: 樹

花: 黄色, 没决定机张花瓣
绿色,没决定机张花瓣

植物高: 10 m.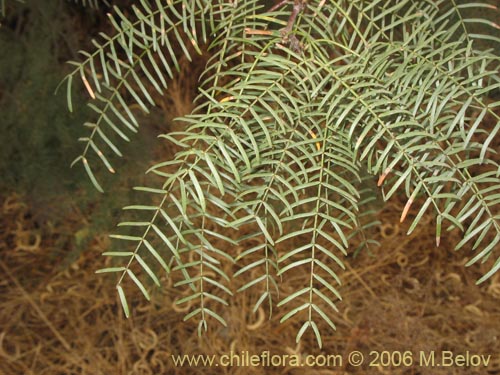 Prosopis chilensis的照片
地方:V Region, Cuesta La Dormida & La Campana, 智利
海拔:800-1200 米. 27日05月2006年
分布区
按照海拔的分布区:
低海拔, 內部榖。

浇水条件:
有一些干燥,干旱的区域。 天旱期间大概持续三个到五个月。 400-800 毫米的雨 在冬天集中。
干燥,干旱的区域。 天旱期间持续六个到十个月。 100-300 毫米的雨 在冬天集中。

阳光条件:
直射的太阳光。 没有保护的地方。比如说,没有树的平坦的地房,或者向北方的斜面。

使用可能
漂亮的植物 (观赏性:A)
使用特性:
藥用植物
食用的植物

植物栽培注意
For the germination of seeds you need to break the outer protective skin of the seed. For just a few seeds use a nail-clipper or a file (you have just to scratch the surface, taking off maybe a flake). For larger batches you can use sulphuric acid, mecahnical scarificators or hot water (please see specialized literature before attempting this, as use of concentrated acid is very dangerous). Soak the scarred seeds in water for about 24 hours. They should visibly swell up. If not, you have not scratched them sufficently. This species can grow in most extreme conditions (extremely saline soil, very little watering), so you do not have to worry too much about the substrate, just keep with good drainage. This tree will withstand occasional freezing, but it is not suitable for cold climates with snow.
如果你想买这杨的植物种子,请您就在这儿离继续看.