INTRODUCTION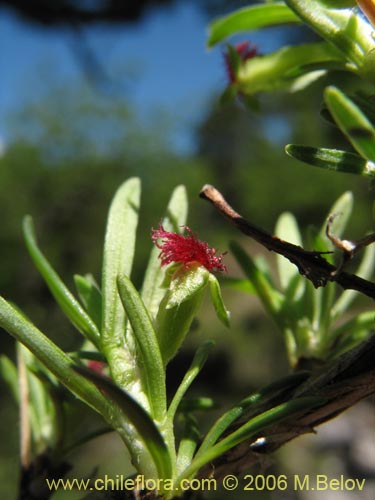 Image of Tetraglochin alatum
VII Region, Reserva Nacional Radal Siete Tazas, Chile
Altitude: 1200 m. 11 26, 2006
DESCRIPTION
Plant type: Shrub

Flower: Red, without information on the number of petals
Yellow, 4 petals
Green, 4 petals

Height: 80 cm.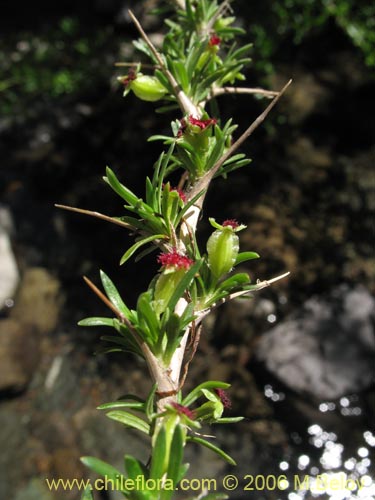 Image of Tetraglochin alatum
VII Region, Reserva Nacional Radal Siete Tazas, Chile
Altitude: 1200 m. 11 26, 2006
HABITAT
In Chile this species grows in the following environmental conditions:
Habitat according to altitude:
High altitude close to the timber line
Medium altitude up to the timber line

Watering conditions:
Somewhat dry areas where the drought may last 3 - 5 months. Precipitations of 400 - 800 mm. are concentrated in winter.

Light conditions:
Fully exposed to the sun. Level areas or slopes facing north.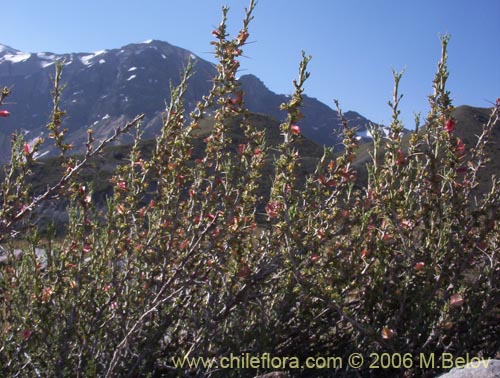 Image of Tetraglochin alatum
Region Metropolitana, Cajón Maipo, Chile
Altitude: 1500-2500 m. 01 03, 2002
USES
Some ornamental value (B)
Useful properties:
Medicinal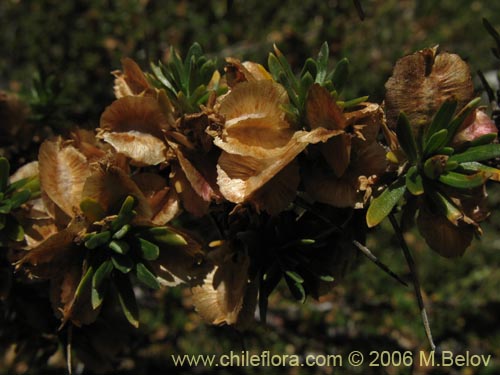 Image of Tetraglochin alatum
VII Region, Camino a Laguna Maule, Chile
Altitude: 700-2200 m. 01 24, 2006
GROWING TIPS
This species has the following hardiness:
USDA Hardiness Zone 7, even 6b. The plant tolerates low temperatures (-15° C even -20° C), it can be covered by snow for months (1 - 8 months).

If you are interested in purchasing seeds of this or similar species, please go to our On-line Seeds Shop.