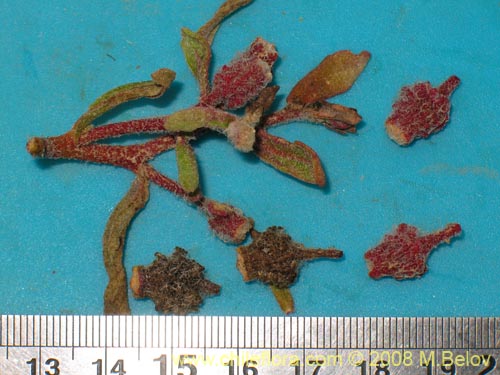 Image of Tetragonia pedunculata
III Region, Huasco, Chile
Altitude: 50 m. 11 19, 2008
New Forum opened! Ask questions about this plant!
Species:
Tetragonia pedunculata Phil.
Family:
Aizoaceae
Order:
Chilean Name:
Pasto guanoso , Aguanosa , Escarcha
English Name:
German Name:
Russian Name:
| | |
| --- | --- |
| Record: | 1202 |
| | About 9 Tetragonia in Chile and 4 in our data base. |
| | About 13 Aizoaceae in Chile and 6 in our data base. |
Frequent

Height: 20 cm.

No ornamental value (C)
INTRODUCTION
DESCRIPTION
Plant type: Annual

Flower: Yellow, 4 petals

Height: 20 cm.
HABITAT
In Chile this species grows in the following environmental conditions:
Habitat according to altitude:
Coastal areas, 0 - 500 m

Watering conditions:
Coastal fog/camanchaca: The plants obtain water mainly from condensation.

Light conditions:
Exposed, but with protection from direct sun through coastal fog (camanchaca).

USES
No ornamental value (C)
GROWING TIPS
This species has the following hardiness:
USDA Hardiness Zone 10 and 11. The plant does not tolerate freezing.

If you are interested in purchasing seeds of this or similar species, please go to our On-line Seeds Shop.